I am passionate about nature and I am passionate about art.
And I'm lucky enough to be able to combine these two loves in my career as an artist.
I hate single use plastic.

I am a painter and street artist based in West Sussex, working under the name Mutiny, which I use to raise awareness of endangered wildlife, conservation and the extinction crisis. An anatomical heart and the extinction symbol can be found in all my street art. Prou

d 
#Gonzovationist.
Trump is a twat.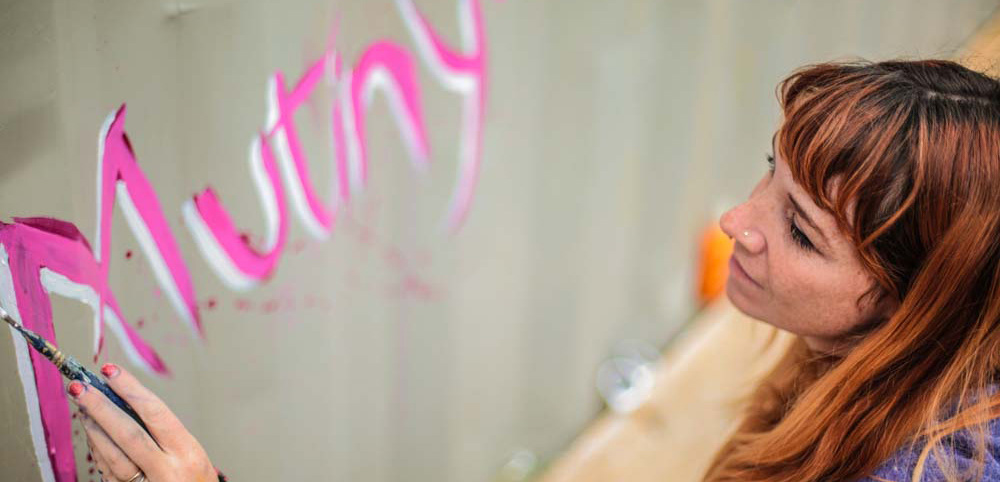 Bio


Jane Laurie, aka Mutiny, is an artist based in West Sussex. She works across a variety of scales and mediums from pencil drawings, ink and oil paintings to murals and street art, with wildlife always at the heart of everything she produces. Jane grew up in Dorset and graduated from Falmouth College of Arts in 2007. She has been lucky enough to travel all over the world - Galápagos, Madagascar, New Zealand, India, Tanzania and Thailand to name a few - experiencing some truly astonishing wildlife encounters. These moments have helped shape her practise and have inspired her to keep working towards a caring, more equal attitude towards all species.
Jane has a huge interest in science and nature which she constantly explores through her colourful and lively work. She specialises in artworks depicting endangered wildlife with the aim of highlighting the extinction crisis - and the wider problems surrounding it - through her work. Jane is always keen to share her ever growing knowledge with people and gives talks on her work and how people can join her on the mission to care for our home.
Statement
Our planet is filled with an astonishing number of species and I strive to capture the liveliness, energy and personality of the creatures in my work. I never tire of learning about the wild, there are always new things to be known. As I grow as an artist, I try to use my work to express these stories, encouraging people to look further into nature through my paintings. On a personal level, I also try to tackle the problems of every day living and throwaway culture, making changes where I can in my own life.

I want people to look at the animals in my paintings and see them the way I do; vivid, exciting and endlessly fascinating. But I also want them to see the fragility and uncertainty that underpins my work. 
The debate on our interaction with the way we treat our planet is intense. There is no doubt that our precious world is becoming more fragile each day, with the natural world often suffering at the heart of human greed. How we view nature and the environment is now more crucial than ever to the survival of all species on earth - including our own.